Monthly Update (Apr 20)
Web3 Grant to Bridge Cosmos and Polkadot, Celo and Free TON Betanet Launches, Liquid Staking Report Draft, and More!
Dear readers,
Welcome to the roundup of another busy month for the Chorus One team. The ecosystem's move to Proof-of-Stake and advances in blockchain interoperability are taking place at an increasing pace.

Network Data
Snapshot data from May 1, 2020: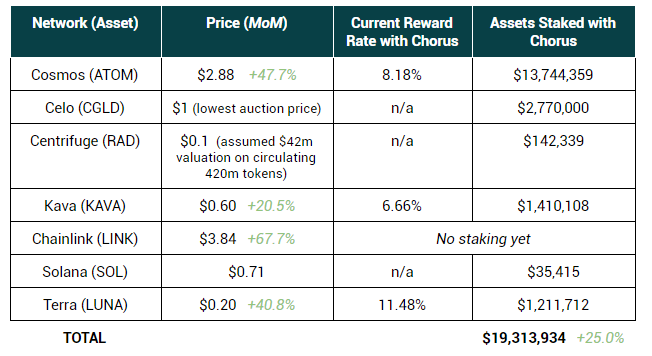 Other Content
Band AMA with CTO Sorawit and CPO Paul on oracle space and Band's solution to feed in off-chain.
Make sure to subscribe to our podcast and please leave a review! Last month's episodes:
#35 - Centrifuge & Tinlake: The OS for the Financial Supply Chain with Lucas Vogelsang
#36 - Band Protocol: Off-Chain Data for the Internet of Blockchains with Soravis Srinawakoon
#36 - Zoning Out